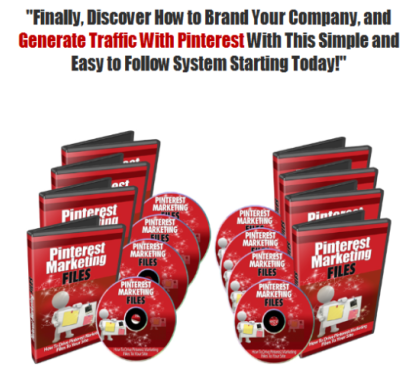 Pinterest Marketing Fast Track to Premium Web Traffic with Pinterest 10 Part Video Course
Hello,
If you're not using Pinterest for marketing, you are missing out on some of the best quality traffic
available anywhere online.
Pinterest has been proven to help business make more sales per click than some of the other social media sites.
Our Pinterest Marketing home study course will show you exactly how to maximize exposure with Pinterest. Learn all you need to know about how to use Pinterest and how to exploit its amazing growth to your maximum advantage.
This step by step, 10 part video series takes you by the hand and shows you how to properly setup Pinterest boards, apply them to your website, and take them one step further by combining them with the power of third party tools that gives you the increased exposure that you need.
It's time to build and strengthen your business, Your brand personality and create an experience that people will want to come back to. You'll learn strategies you can use starting today that will bring you closer to a complete simple to use method for becoming a Pinterest Wizard.

To Your Success!
TNS Enterprises
ChangingMyStars.com